WHAT IS SOLAR ENERGY?
Solar energy is the most abundant energy resource on Earth. It can be collected and used in several ways, and because it's renewable and unlimited, it's an important part of our clean energy future. How does solar energy work?
SOLAR ENERGY - EACH PARTICLE OF SUNLIGHT (PHOTON) THAT REACHES EARTH CONTAINS ENERGY; THAT ENERGY IS COLLECTED AND CONVERTED INTO TWO TYPES OF ENERGY WE CAN USE: ELECTRICAL (PARTICLES OF SUNLIGHT, PHOTONS) OR THERMAL (HEAT)
The sun puts out light (particles called photons, light energy) and heat (thermal energy). These two types of energy are collected and used in different ways: photovoltaics, solar heating, and concentrating solar thermal power.
Sunlight → Photovoltaics - this is where our work lives, since this is where solar panels come in
Heat → Solar Heating and Concentrating Solar Thermal Power - solar thermal energy has a wide range of uses, but using it at a small scale (like in the case of a home) isn't as practical as a PV system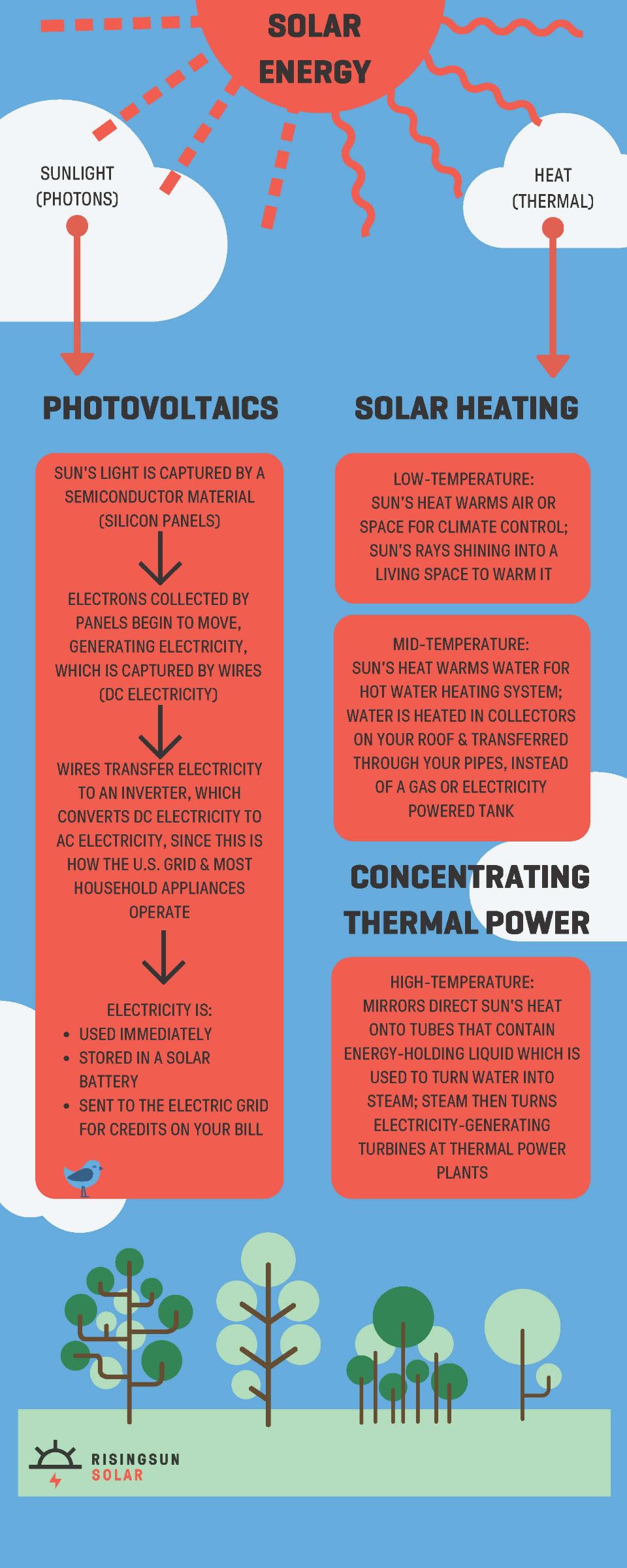 Photovoltaics (or the Photovoltaic Effect) - conversion of light into electricity using a semiconductor material; named after Italian physicist Alessando Volta, who pioneered electricity and power, and invented the electrical battery. This is why you'll sometimes read or hear the term "solar PV system."
Solar PV systems can power smaller things like road signs and calculators, all the way up to homes and commercial buildings, which is where RisingSun Solar specializes.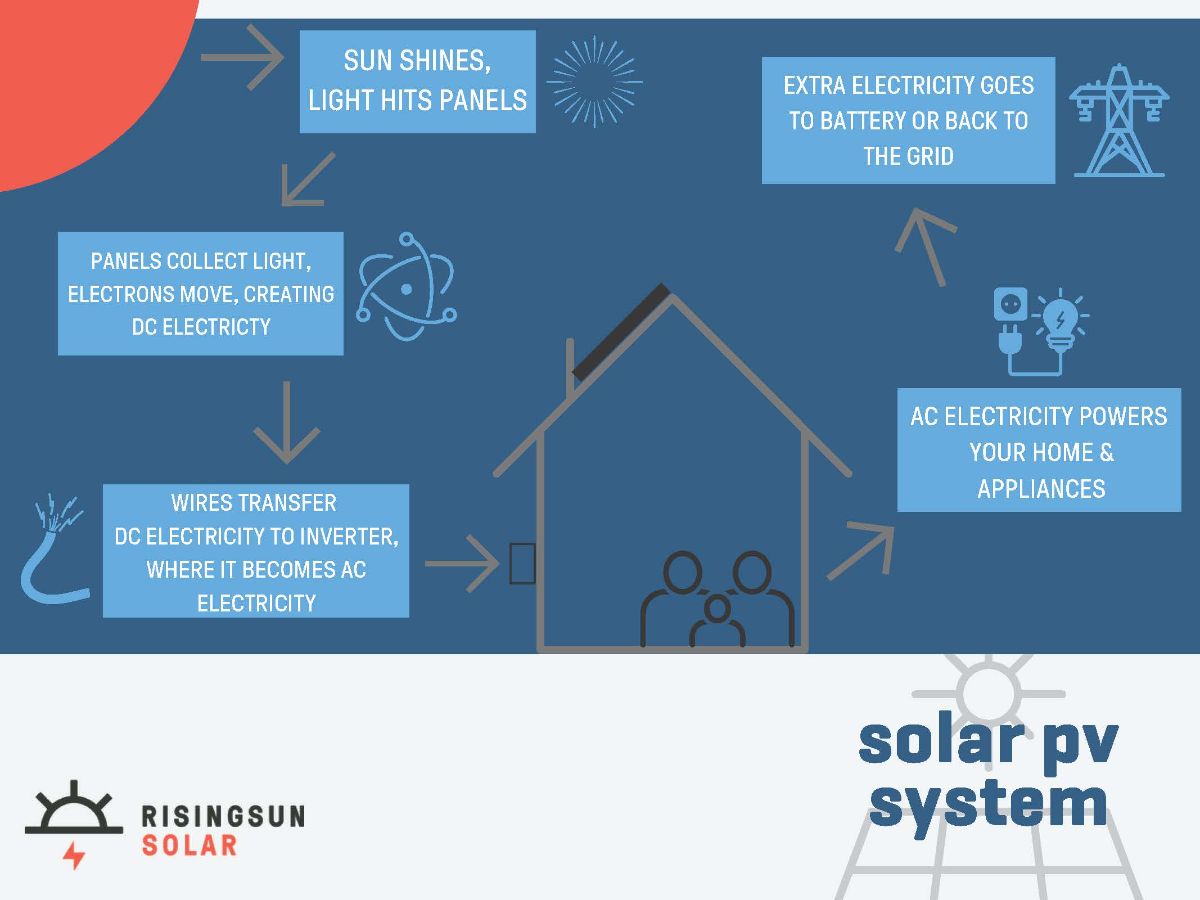 With a solar PV system, solar panels convert the sunlight at your property into electricity that you can use immediately, store in a solar battery backup system, or send to the electric grid for credits on your electric bill (this is called net metering).
Here's how it works: the sun rises and shines; your solar panels gather sunlight, which creates DC electricity that travels through wires to your inverter. The inverter converts that DC electricity to AC electricity (because this is how the U.S. grid and most appliances operate), which then powers your home. If you produce more than you're using, it goes into your battery backup or back to the grid.
There are varied reasons why this is appealing to property owners: everything from saving money monthly, to becoming independent of the utility company, to reducing one's carbon footprint. While the motivations may vary, we can help you understand each element of the decision to go solar and why it may or may not be a good fit for you.
COMMON QUESTIONS, ANSWERED BY RISINGSUN SOLAR MANAGING PARTNER TYLER TUCKER:
Do some states get more solar energy than others?
Absolutely. Please see below for the US map showing peak sunlight hours. The Southwest and Southern regions will provide more peak sunlight hours, which will result in higher solar production.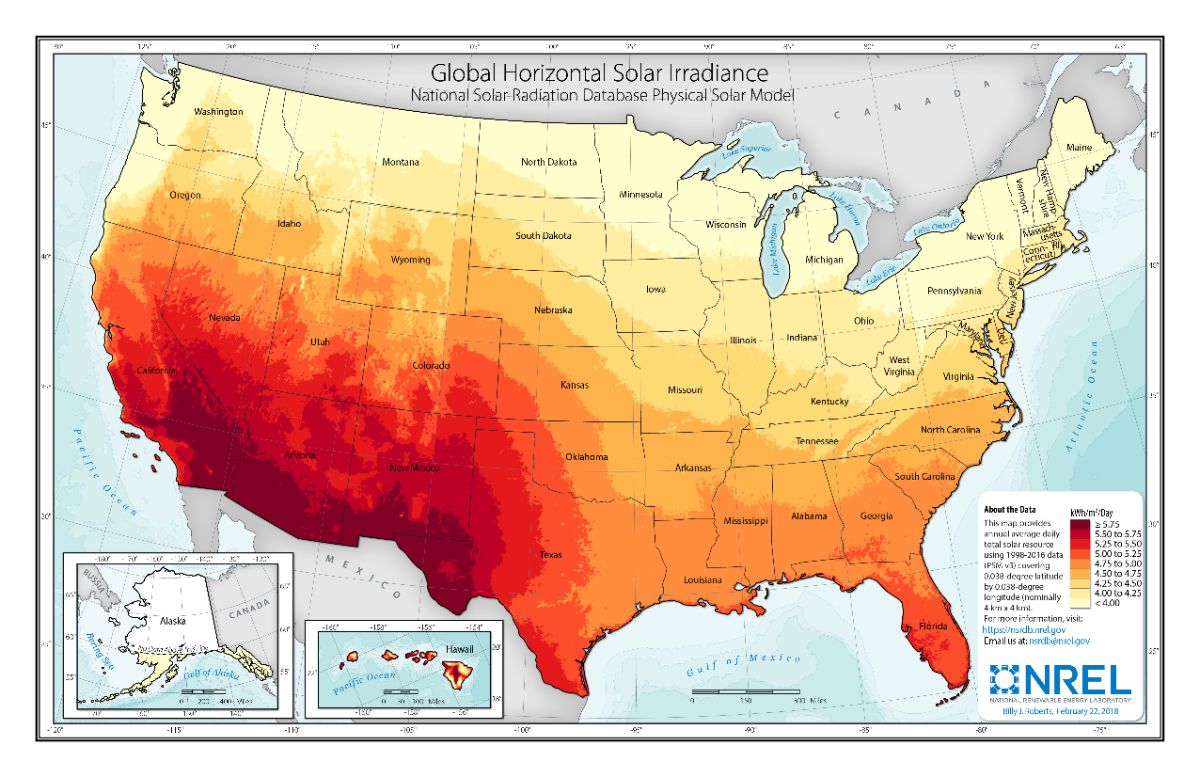 How does weather affect solar energy?
Your solar is going to produce less on cloudy days, however it is still producing power. Direct sunlight will always produce more power, but solar still works on cloudy days. I often use an analogy of getting sunburned in the yard or at the ball field on a cloudy day, because despite the clouds, there are still UV rays shining down.
What happens at night or when the sun's light isn't available?
Your solar is not producing power at night. Most states have net metering agreements in place that allow you to send excess power made during the day to the grid, which is what you're then using to get your power at night. At the end of the month, you're only paying for the net imported power that was delivered to your home from the grid. (For example, if you create 1,000 kWh during the day throughout that month, and your home uses 1100 kWh during the night throughout that month, then you're only paying for the 100 kWh that you used from the grid.)