DEBUNKING FAKE NEWS: THE ROLE OF RENEWABLES IN CURRENT OUTAGES, ARCTIC TEMPS
RisingSun Solar Keith Murphy sits down for a Q&A to debunk false information that's getting widely shared in the midst of this historic weather situation.
CENTRALIZED DISTRIBUTION - ONE UTILITY COMPANY, PUSHING ELECTRICITY TO HUNDREDS OF THOUSANDS, IF NOT MILLIONS OF CUSTOMERS
DECENTRALIZED DISTRIBUTION - ONE CUSTOMER HAS HIS OR HER OWN POWER PRODUCTION CAPABILITY THROUGH SOLAR PANELS AND STORAGE (ALSO CALLED BATTERY BACKUP, OR HOME BATTERY)
"This is really an unprecedented time with regards to the grid and energy sector, and it's really shedding a light on problems that centralized distribution has and opportunities to improve. What we're seeing is a cumulative effect of shortage in supply, as well as some of the highest demand we've ever seen for electricity. The shortage in supply is due to many factors."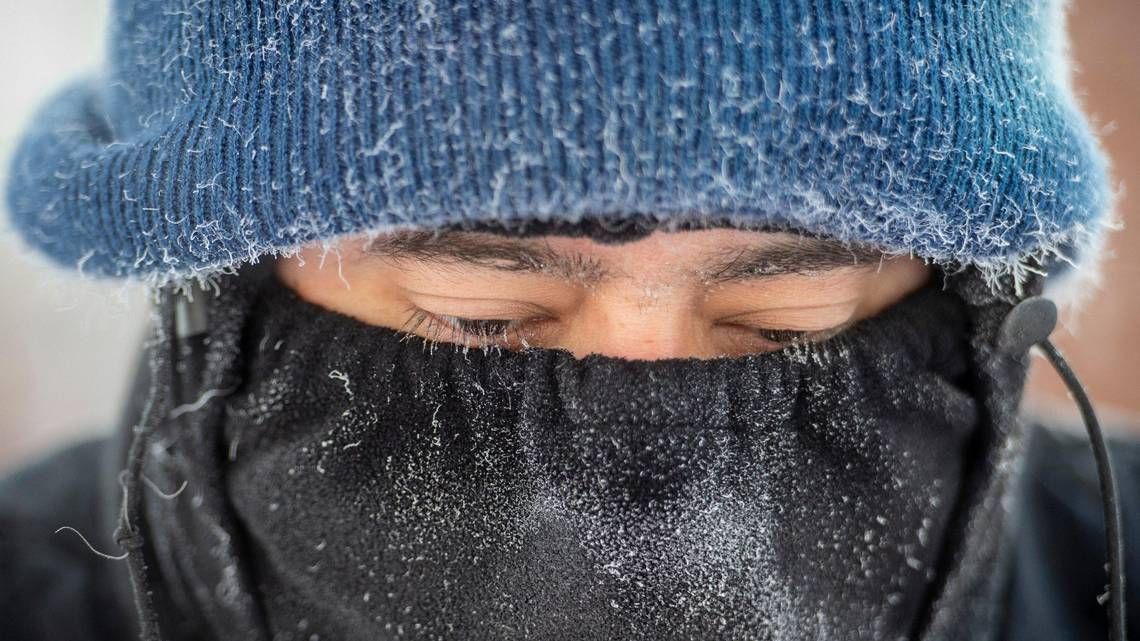 Photo courtesy Kansas City Star, Feb. 16, 2021
WIND TURBINES FREEZING UP CAUSED SUPPLY SHORTAGES: FALSE
WHAT'S TRUE: MOST OF WHAT STOPPED WORKING WERE COAL AND GAS GENERATORS
"In Texas there were wind turbines that froze up yes, but there were also coal-fired generating plants that stopped working. There were also natural gas wells that weren't able to function properly because of the freezing temperatures. The state saw some of the highest demand in its history. So all of that means that the utility company has to respond. They respond with rolling blackouts to control and curb usage or demand so a temporary blackout doesn't turn into a long-term blackout. Texas is the largest energy-producing state in the country, yet as one expert explains, these outages could've been prevented with the proper winterization. 
Another expert with the Department of Economics at the University of Houston, blamed the failures on the state's deregulated power system, which doesn't provide power generators with the returns needed to invest in maintaining and improving power plants. "The ERCOT grid has collapsed in exactly the same manner as the old Soviet Union. It limped along on underinvestment and neglect until it finally broke under predictable circumstances. It's like not taking care of your car. If you don't change the oil and tires, you can't expect your car to be ready to evacuate, let alone get you to work," he said.
RENEWABLES IS THE CAUSE OF THE BURDEN ON THE GRID: FALSE
WHAT'S TRUE: SELF-SUFFICIENT POWER PRODUCERS POSE A THREAT TO MONEY-MAKING UTILITY COMPANIES
"What's causing the issue with the grid is just higher demand than they've ever seen. You could make the argument that the utility companies weren't adequately prepared for this.
In Texas, any time something like this comes to light, it's going to make news. Windmills freeze up, so they lose power. Was that a contributing factor? Yes, but the entire state of Texas gets somewhere around 20% of its electricity from wind. That is significant, but not every single wind turbine was frozen up; I think I read somewhere around 50%.
The main issue that happened in Texas was that coal fire generators could not function because of the freezing temperatures and their natural gas wells were also frozen. Both of those combined supply about 80% of the electricity in the state.
Those three factors combined with the highest demand that the state has ever seen for a single day is the issue at hand. The opportunity for homeowners to have their own storage and energy management system would actually help grid operators during times like these. So for someone to point blame at one particular contributing factor as the overall reason is just not really providing all of the information.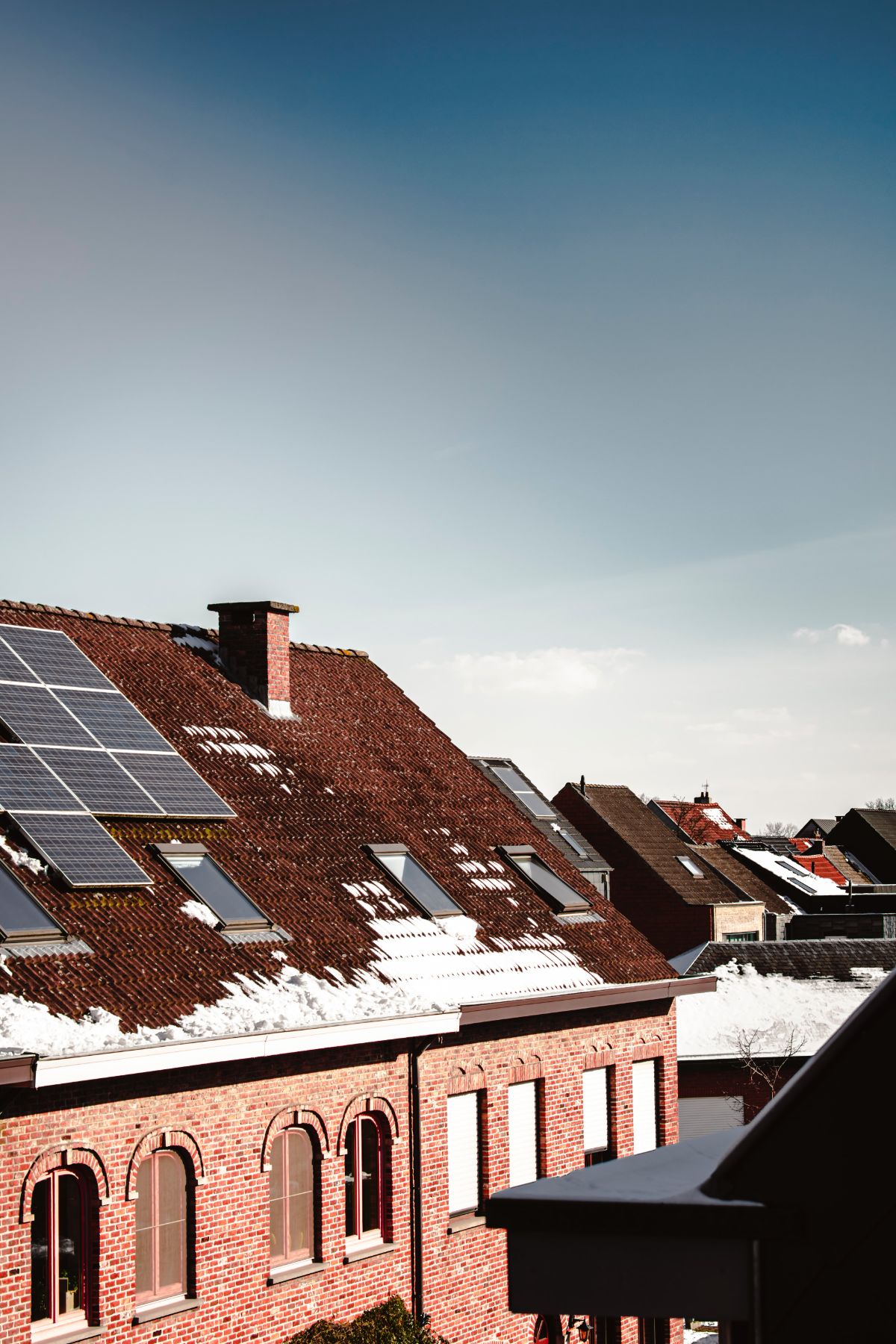 THIS IS WHY COAL IS BETTER: FALSE
WHAT'S TRUE: COAL IS, IN PART, RESPONSIBLE FOR THESE OUTAGES
Coal is always going to have the advantage that you don't need wind to blow or the sun to shine for coal to work; that's true. Wind and solar are always going to be intermittent sources of power. However, the problem that we're seeing is caused in large part because of climate change. This arctic blast that we're seeing, there are studies that show that these types of things are going to happen more frequently. That's a part of climate change. So coal is actually responsible for this in part. Continuing to feed a beast that's ultimately causing the underlying problem, that doesn't solve anything.
There are opportunities with renewables and it's on the micro level (personal energy production). That's what utility companies honestly are more worried about. If a homeowner puts solar panels up on the roof and has a battery backup system, and has a way to manage his or her energy and control it, then that person no longer needs a utility company for 100% percent of their needs. If the grid goes down intermittently, they're going to be just fine. It's all the people that don't have that and are relying on centralized distribution that are going to run into problems.
SNOW MEANS MY PANELS WON'T WORK: FALSE
WHAT'S TRUE: SNOW-COVERED PANELS PERFORM LESS, BUT DOESN'T SHUT DOWN COMPLETELY
How solar and storage plays into the mix is homeowners who had solar plus storage were able to effectively power their home during those outages. Realistically, there is no perfect solution. If you're talking about snow-covered panels, and an outage that lasts for an extended period of time, you're going to see some limitations on how long their power supply will last, but there are tips and tricks to manage your consumption when it's needed for a critical load situation.
Here in the Midwest, we're lucky enough that typically when it snows, it melts in a few days. Snow on panels though is a valid concern. If solar panels are covered in snow, they're not going to produce as much electricity. Some light will get through, some power will be produced, but a fraction of its potential.
There are challenges and some areas are going to work better than others. But saying that clean energy or renewable energy (wind, solar, hydro, whatever you want to say) is the reason utility companies are having to perform rolling blackouts, that's just completely inaccurate.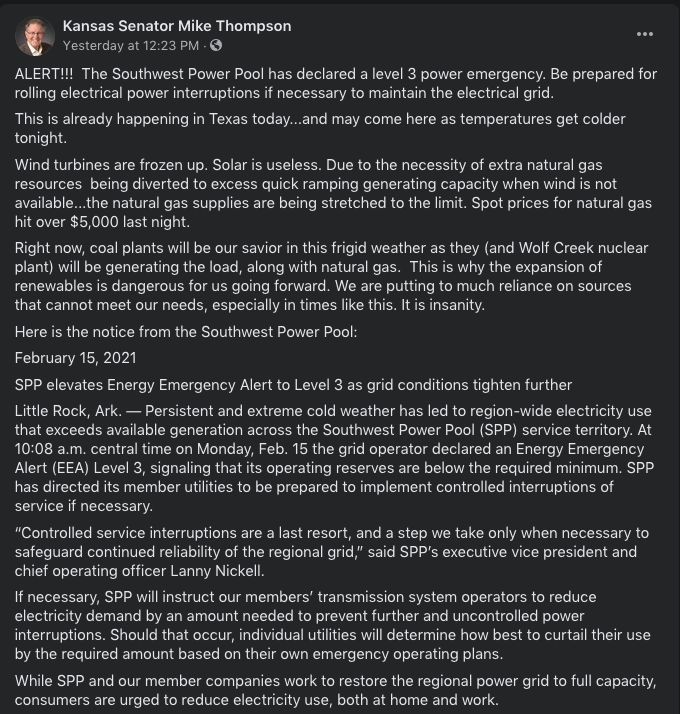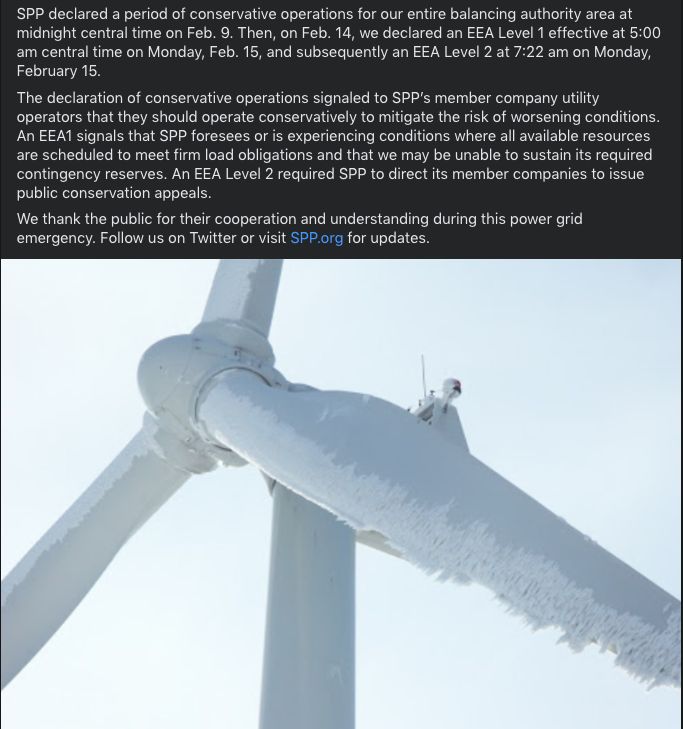 Excerpt from local Kansas politician's FB page, Feb. 15, 2020
SOLAR IS USELESS: FALSE
WHAT'S TRUE: SOLAR WITHOUT A BATTERY BACKUP WILL GO DOWN WITH THE GRID
If you have solar and no battery backup, then you don't have power unfortunately when the grid goes out. That's always been the case. That's exactly why we have really good battery backup partners that allow us to integrate solar production with energy storage, so power can be managed during times like these.
Realistically, if you have a system that is covered in snow and a battery backup, but we lose power for an extended period of time, then unfortunately, yes, there are limitations to what anything can do. But just because of that scenario, I wouldn't write that off as something that doesn't work. There's no other solution available with the ability to produce your own power, not be reliant 100% on the grid, while also having the capability to power your home when the grid goes down. Of course, there are some areas where they're not going to work as well as we want them to. But looking at the bigger picture, it's a solution that works, and it's reliable.