POWER UP OPERATION BREAKTHROUGH
THE VISION
Ignition Lab is geared toward students 14 to 18 — a demographic group that the organization has struggled to reach as they age out of Operation Breakthrough's existing programs.
THE MISSION
"We're really looking to work toward [equipping] kids who are powerful, entrepreneurial, working toward career development, working toward college if they want to, internships, scholarships — kids who are getting real-world training for big jobs that are happening right now in Kansas City."
"What we focus on is real-world learning — and that means getting your hands dirty," explained Tyler Baker, community engagement and partnership coordinator at Operation Breakthrough. "It's actually tinkering with things, taking things apart."
THE CHALLENGE
The iGNiTiON LAB — which sits immediately north of the nonprofit's existing expansion building — is expected to house skills-based resources that include a student co-working facility, digital media lab, makerspace, an automotive and engineering lab, and an on-site food truck to be run by culinary arts students. Electricity is mission-critical to the iGNiTion LAB and they decided to address ever-increasing electricity rates with their very own solar array.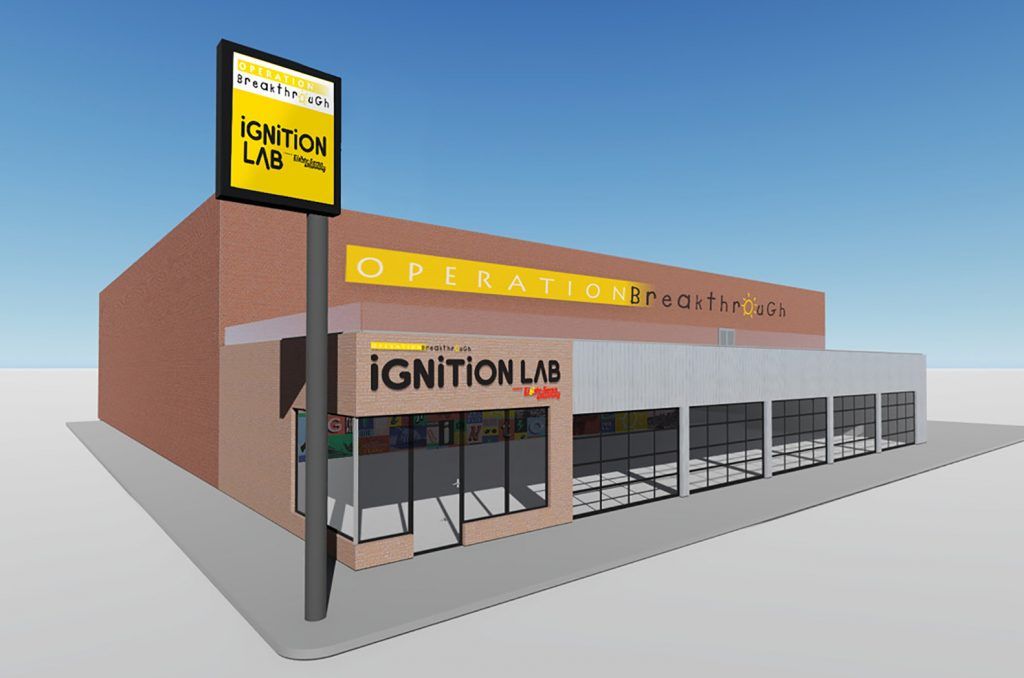 The Ignition Lab project was made possible by Travis Kelce and his 87 and Running Foundation, which in August announced the donation of a vacant muffler shop near 31st and Troost to Operation Breakthrough. This rendering shows what the building is destined to become. 
Our goal is to guide our community through the modern renewable energy landscape. You may have noticed that Kansas City non-profits are rapidly adopting solar. Just like residential solar,  It's a no-brainer when the conditions are right and we're grateful for the opportunity to power up their mission and share it with generous folks like yourself.
PLEASE, JOIN US!
Visit operationbreakthrough.org/how-you-can-help/fundraising then forward your $100 receipt to accounting@risingsun.solar and we will joyfully match your donation.